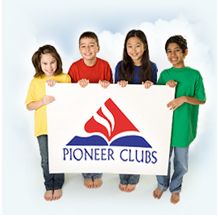 Pioneer Clubs is a mid week Bible-based, relationship-focused, fun filled club that offers award badges for boys and girls to earn along the way.
Pioneer Clubs include :
Skippers:  ages 2-3
Scooters :  ages 4-5
Voyagers: grades 1-2
Pathfinders: grades 3-4
Trailblazers: grades 5-7
The mission of Pioneer Clubs is to serve God by providing the most effective and educationally sound programs to help children follow Christ in every aspect of life.
At Conception Bay South, Pioneer Clubs meet on Tuesdays at 6:30 – 7:30 pm from mid September until the second week of May.  Pioneer Clubs welcomes all children from the community regardless of religious affiliation.  Join us for a power packed hour.
For further information contact Club Coordinators:
Major Marlene George at marlene_george@can.salvationarmy.org
Mrs. Jackie Williams at Jackie.williams@hotmail.ca
October 2017 UPDATE:Our first PIONEER AWARD SERVICE will be held on Sunday, November 26th at 6:00 pm with refreshments and fellowship to follow. Be sure to invite family and friends to celebrate your child's achievement awards in Pioneer Club this fall. If you have any questions please contact Marlene George, 709-691-7729 or marlene_george@can.salvationarmy.org