We offer several programs during our Sunday morning services:
Nursery for ages 0-3
Junior Army for ages 4-6
Junior Action for ages 7-10
Bible Study/CrossZones (Ages 11-13)

Nursery (ages 0-3)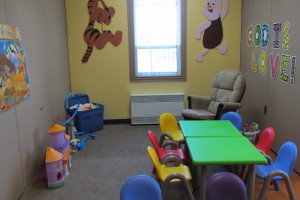 Nursery is for children from birth to age three. Children are invited to attend nursery during the service alone or with their parent. Children come to hear Bible stories, play games, do a small craft and play with the toys.
Junior Army (ages 4-6)
This program is offered to children ages 4-6 during our Sunday morning worship. Here the children are taught a Bible story and also do activity worksheets and crafts.
Junior Action Program (ages 7-10):
The Junior Action program develops an understanding of Salvationism, Army doctrine, and Christian growth through eight units of study over four years.  Junior Action classes are held each Sunday during the morning service.  The Junior Soldiers Preparation Course is available for those who choose to be enrolled as junior members of The Salvation Army.  Preparation classes are normally held in the Fall of each year.  One Sunday each year (usually in January) is set aside for a Junior Soldier Renewal/Junior Action Commitment Sunday.
The International Junior Soldier Promise:
I know that Jesus is my Saviour from sin.
I have asked him to forgive my sins,
and I will trust him to keep me good.
By his help, I will be his loving and obedient child,
and will help others to follow him.
I promise to pray, to read my Bible,
and to lead a life that is clean in thought, word and deed.
I will not use anything that may injure my body or mind,
including harmful drugs, alcohol and tobacco.
Leaders of the Junior Action Program:  Rosemarie Dobson and Claudette Hillier 
Junior High Bible Study/CROSSzone (Ages 11-13)

The Youth Discipleship Program provides a biblically based Bible Study with an expansive biblical scope and sequence, upholding Salvation Army Doctrine and Positional Statements and addressing current teen issues. The scope and sequence covers a 6 year period, and is written for two different levels: Junior High (CROSSzone) and Senior High (CROSStraining).
The goal is to provide an Army based teen Bible Study that will provide a solid foundation for the development of Christ-like characteristics, leading to vibrant spirituality, enriching fellowship and effective life-changing service. To foster, by example and challenge, in every young person, a love for God, a sense of belonging and a recognition of The Salvation Army as his/her place of worship. CROSSzone and CROSStraining classes are held each Sunday during the morning service.
CROSSzone Leader: Lynette Barrett